Art Above Counter Sink Oval Marble Stone Grain Art Vanity Wash Bath Sink Ceramic Washbasins Single Basin
We're professional art basin manufacturers and suppliers in China, specialized in providing high quality customized products. Sinkyo, Focus on leading products and make products with heart. Strictly control the quality of products, just to give customers the best products.
The marble pattern artistic sinks offers a statement piece for any traditional or contemporary bathroom design. The classy color gives a sophisticated touch to any space without overpowering the room. This sink is made of top-quality heavy-duty ceramic, a safe and durable bathroom material. It can be applied to private houses, hotels, restaurants and public bathrooms.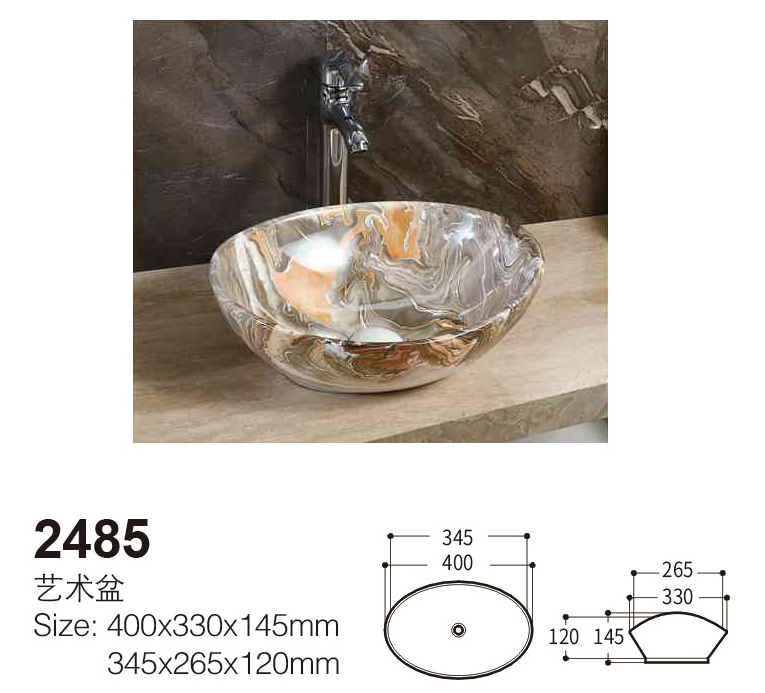 Features
Oval bathroom ceramic countertop art basin.
Above the counter installation. Easy installation for a modern look
Low water absorption to always keep a smooth and polished surface, easy to maintain.
Smooth glaze, self cleaning glaze and delicate. Smooth surface is easy to clean, simply wipe with a damp cloth.
Slightly sloped design inside the bottom of the sink for fast and complete draining.
Ceramic Vanity Top Wash Basin  Bathroom Vanity Sink installation / over countertop
Durable, long-lasting vitreous china
White finish, matte black / matte white glaze and other assigned colors optional
Easy to clean
Laser logo on ceramic optional
Branding service (packaging with your brand) optional
Carton packaging / pallet packaging optional
Basin tap, drainer, siphons and wall installation kits optional
Meets European EN 14688 Sanitary appliances – Wash basins – Functional requirements and test methods
1. Please inquiry us for the final price
2.Please make an inquiry about the freight before you place an order.
3.Feel free to contact us for the latest catalogue.
Sinkyo ceramics produce Ceramic Vanity Top Wash Basin Matte Black Bathroom Vanity Sink for bathroom furniture factory
thin edge basin for bathroom vanity, China, factory, suppliers, manufacturers, cheap, made in China