Art Bathroom Basin Ceramic Sink Ceramic Bathroom Vessel Sink Marble Washbasins Bathroom
Our factory is located in Chaozhou, Guangdong, China. We are highly specialized manufactory of medium to high end bathroom ware.
This ceramic sink is made of top-quality heavy-duty ceramic, a safe and durable bathroom material. It can be applied to private houses, hotels, restaurants and public bathrooms.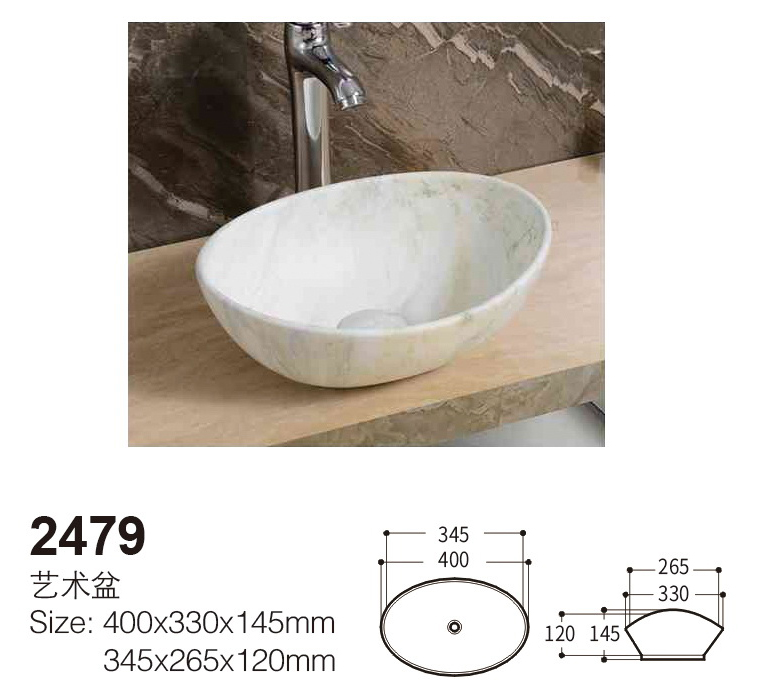 Features
Oval bathroom ceramic countertop art basin.
Touch smoothness. Three glazing of raw material, touch with your palms, you can feel the delicate, smooth touch.
Rugged durable and glossy. Precision kiln equipment to achieve uniform heating and cooling during sintering process to ensure durable and non-deformable procelain body.
Standard smoothness. Precision production technology, clay grinding technology, to ensure the level of the procelain, fine and uniform.
Low water absorption and crack control. The water absorption rate of the basin body is less than 3%, it is not easy to produce cracks and refuse dirt and silt to prevent smeiling or yellowing.
Ceramic Vanity Top Wash Basin  Bathroom Vanity Sink installation / over countertop
Durable, long-lasting vitreous china
White finish, matte black / matte white glaze and other assigned colors optional
Easy to clean
Laser logo on ceramic optional
Branding service (packaging with your brand) optional
Carton packaging / pallet packaging optional
Basin tap, drainer, siphons and wall installation kits optional
Meets European EN 14688 Sanitary appliances – Wash basins – Functional requirements and test methods
1. Please inquiry us for the final price
2.Please make an inquiry about the freight before you place an order.
3.Feel free to contact us for the latest catalogue.
Sinkyo ceramics produce Ceramic Vanity Top Wash Basin Matte Black Bathroom Vanity Sink for bathroom furniture factory
thin edge basin for bathroom vanity, China, factory, suppliers, manufacturers, cheap, made in China