Sinkyo 24″x14″ Elegant Black Bathroom Sink Decorative Lavabo Salle Bain Matt Ceramic Table Top Washbasin Marble Hotel Art Basins
Our factory is located in Chaozhou, Guangdong, China. We are highly specialized manufactory of medium to high end bathroom ware. Sinkyo, Focus on leading products and make products with heart. Strictly control the quality of products, just to give customers the best products.
This sink is with marbling pattern, made of high quality ceramic, a safe and durable bathroom material. Simple and modern outlook, which offers elegance to your bathroom or vanity room.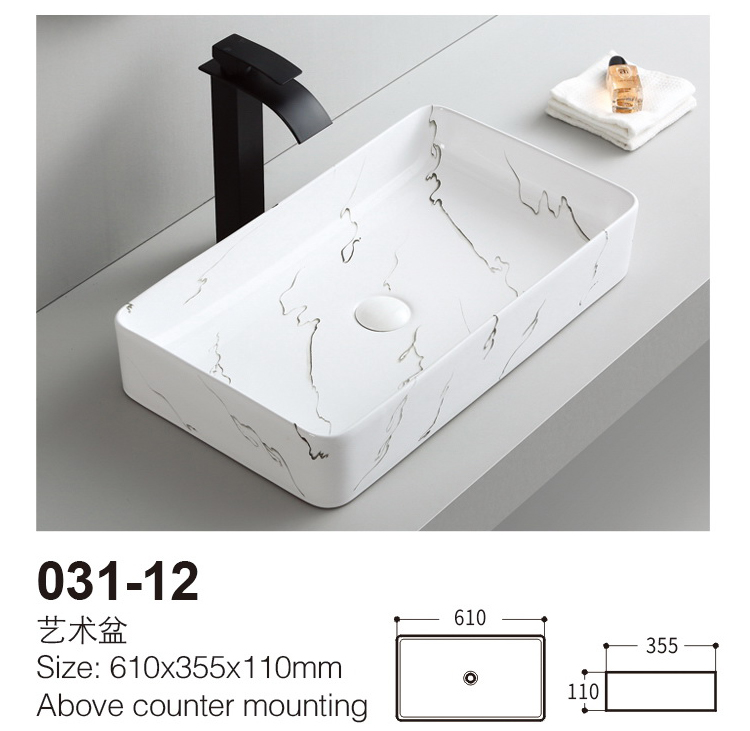 Features
Rectangular ceramic for simple style, easy installation and easy to maintain and clean.
Low water absorption, acid and alkali resistant, not easy to appear chap.
Smooth glaze, self cleaning glaze, white and delicate.
High temperature Integral molding, seamless, no Leakage, longer service life.
Ceramic Vanity Top Wash Basin Bathroom Vanity Sink installation / over countertop
Durable, long-lasting vitreous china
White finish, matte black / matte white glaze and other assigned colors optional
Easy to clean
Laser logo on ceramic optional
Branding service (packaging with your brand) optional
Carton packaging / pallet packaging optional
Basin tap, drainer, siphons and wall installation kits optional
Meets European EN 14688 Sanitary appliances – Wash basins – Functional requirements and test methods
1. Please inquiry us for the final price
2.Please make an inquiry about the freight before you place an order.
3.Feel free to contact us for the latest catalogue.
Sinkyo ceramics produce Ceramic Vanity Top Wash Basin Matte Black Bathroom Vanity Sink for bathroom furniture factory
thin edge basin for bathroom vanity, China, factory, suppliers, manufacturers, cheap, made in China